Carbon Steel Electrode
Stainless Steel Electrode
Cast Iron Electrode
Low Temperature Steel Electrode
Surfacing Electrode
Low Alloy Steel Electrode
Heat Resistant Steel Electrode
Nickel And Nickel Alloy Electrode
Copper And Copper Alloy Electrode
Tungsten Electrode
Carbon Gouging Electrode
Contact Us
Contact:
Shanzhong Yang
Tel:
0086-571-87169872 /87169873
Fax:
0086-571-87169573/63739139
E-mail:
china@hzdayang.cn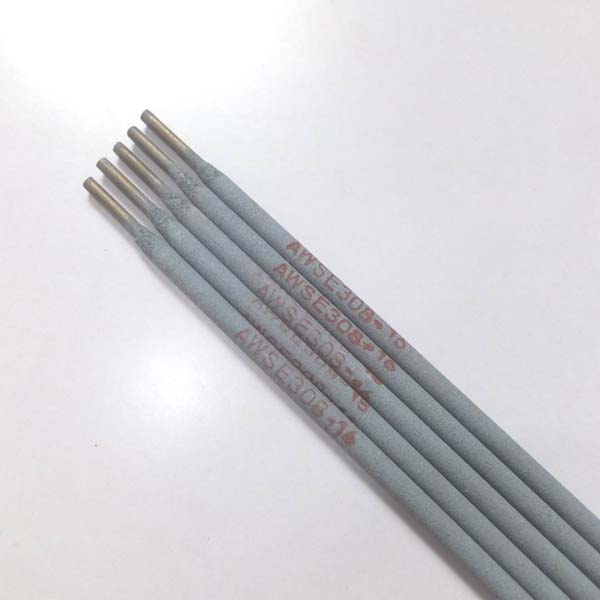 AWS E308-16
Welding of 0Cr18Ni9 and Cr8Ni9Ti Stainless steels and working temperature is below 300°C.
1.The deposited metal(19Cr-9Ni) is austenite tissue,with good mechanical properties and resistance to intergranular corrosion properties.
2.soft electric arc,little splash,beautiful weld moulding,electrode is not easy to red,With excellent performance in all-position welding,Welding in these materials includes:18Cr-8Ni(AISI 304),AISI 301,302,SUS 304 etc.
Products Description
Comments
| | |
| --- | --- |
| Model Number | AWS E308-16 |
| Brand Name | Ocean Welding |
| Size | 2.0mm 2.5mm 3.2mm 4.0mm 5mm |
| Applications | Welding of 0Cr18Ni9 and Cr8Ni9Ti Stainless steels and working temperature is below 300°C. |
Chemical composition of deposited metal(%)

C

≤0.08

Mn

0.5-2.5

Si

≤0.9

S

≤0.03

P

≤0.04

Cr

18-21

Ni

9-11

Mo

≤0.75

Cu

≤0.75