Contact Us
Contact:
Shanzhong Yang
Tel:
0086-571-87169872 /87169873
Fax:
0086-571-87169573/63739139
E-mail:
china@hzdayang.cn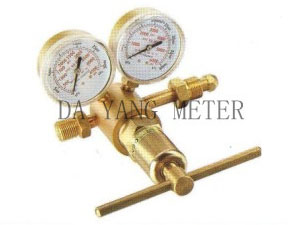 DY-12 OXYGEN
Products Description
Comments
High pressure regulator
1. Max Input Pressure: 30000Kpa
2. Max Output Pressure: 25000Kpa
3. Full brass
High pressure regulator
JGR-34 is a regulator with extra-high outlet pressure suitable for those who has special demand for high outlet pressure.
JGR-34 can provide precise control over outlet pressure from 0 to 30000 KPA.
JGR-34 introduces piston-loaded design.
With body and housing cap forged from class A brass bar and specially designed screwjoint, SR0100 can afford
extra-high outlet pressure.
Front cover made of high grade PC enhances firmness of gauge against damage.
Inlet is protected by a sintered bronze filter.