Contact Us
Contact:
Shanzhong Yang
Tel:
0086-571-87169872 /87169873
Fax:
0086-571-87169573/63739139
E-mail:
china@hzdayang.cn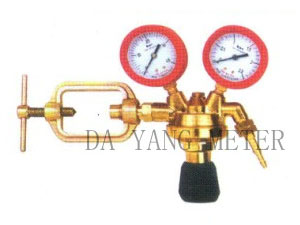 DY-21 ACETYLENE
Products Description
Comments
Acetylene regulator(welding flowmeter, welding accessory)
1. Designed for MIG and TIG applications and provide accurate regulation of gas flow
2. Provide reliable performance in commercial, industrial and laboratory applications
3. Forged brass body and bonnet for maximum strength
4. Calibrated for argon, helium and carbon dioxide gases
5. Flowmeter is backpressure compensated to ensure accurate readings when line restrictions are present
6. High-pressure gauge for easy reading
7. External safety pressure relief design.
8. Sintered bronze inlet filter