Contact Us
Contact:
Shanzhong Yang
Tel:
0086-571-87169872 /87169873
Fax:
0086-571-87169573/63739139
E-mail:
china@hzdayang.cn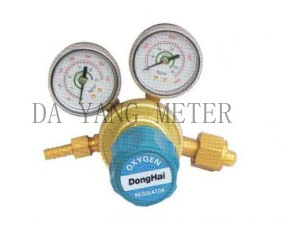 DY-24 OXYGEN
Products Description
Comments
Oxygen regulator new type
1.Material:high quality brass
2.Accurate Inlet & Outlet thread
3.No leakage and no discolouration
About products:
1. Mental film in the valve replaces traditional rubber film, and all sealing materials are made from PTFE to ensure that highly purified gases will not be secondarily polluted.
2. Simple and wise structure with multiple filtering sets, rigid and durable, and suitable for replacement and operation of various kinds of gases.
3. High pressure-resistant structure, distinguished sealing performance.
4. Remarkably improved pressure characteristics and flux characteristics compared with ordinary pressure reducing valve.
5. Complete models and standards of products; input and output connections comply with the requirements of users, which can meet the requirement of various uses.
6. The inner and outer materials of YQJF are all made of corrosion resistant stainless steel with excellent performance of corrosion resistance.
7. The regulator can also be installed on a panel or a fixed bracket, in addition to serving as a pressure reducing device for steel bottles containing high-pure gas.