Contact Us
Contact:
Shanzhong Yang
Tel:
0086-571-87169872 /87169873
Fax:
0086-571-87169573/63739139
E-mail:
china@hzdayang.cn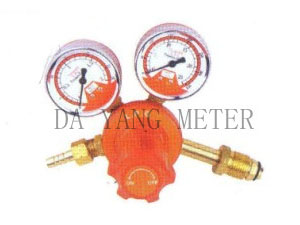 DY-43 LPG
Products Description
Comments
Detailed Product Description
1. gas cylinder regulator
2. brass body, iron material of connectio
3. cheapest price regulator
4. different color box or desig
gas cylinder regulator
1.Forged brass body & bonnet for maximum strength.
2.Oxygen, w/safety relief valve is set for safe operation.
3.Sintered metal inlet filter to trap impurities.
4.No soldered joints, for easy maintenance.
5.Easy to read dual scale gauges (BAR/P.S.I) with virtually unbreakable crew-on lean lens
6.Gauges meet EN 562 and BAM approved dual scale (Bar/Psi) and marked for maximum working pressure.
7.Models are available for 200 or 300 Bar Max. inlet pressure.
8.300Bar Max. inlet pressure need to be indicated when orders.
9.Outlet with control valve.