Contact Us
Contact:
Shanzhong Yang
Tel:
0086-571-87169872 /87169873
Fax:
0086-571-87169573/63739139
E-mail:
china@hzdayang.cn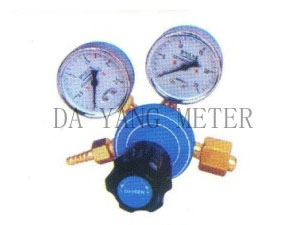 DY-44 OXYGEN
Products Description
Comments
Oxygen Regulator
Application:
13.Usage: oxygen gas regulator is used to regulate high pressure acetylene gas in cylinder for required working pressure,
and ensure the outlet pressure steady when input pressure and outlet flow change in process of welding, cutting and chemical.
1. Gas: oxygen
2. Inlet pressure: 15MPa
3. Measuring range: 0-2MPa
4. Nominal Flow: 50M3/h
5. inlet thread: G5/8
6. Connection size: inlet is 5/8 inch and the outlet is M16*1.5mm
7. Be made of excellent copper, the cover can afford 16MPa and the body material is excellent brass.
8. Pressure gauges with protection cover and ease hole
9. Rated Pressure: inlet is 0-25 and the outlet is 0-4 or 0-2.5
10. applicable to gas/gasoline welding,cutting & chemical industry
11. With eight insurance, two guards and one resistance
12.Getting dialysis equipment patent