Contact Us
Contact:
Shanzhong Yang
Tel:
0086-571-87169872 /87169873
Fax:
0086-571-87169573/63739139
E-mail:
china@hzdayang.cn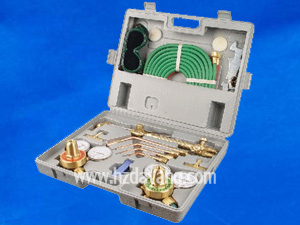 DY-B21
Products Description
Comments
H502 middle typed welding and cutting tools kit
◆
Using oxygen and acetylene.
◆
Suitable for shipping constraction,mechnieal industries.
◆
Middle typed knockdown welding and cutting torch, and copper regulator.
◆
Cutting capacity: 3-20mm, welding capacity:0.5-6mm.
◆
Collaborated with large welding nozzle with welding depth up to 32mm,and cutting nozzle with the cutting depth up to 150mm.
◆
Made form top-class forged copper.
◆
Flashback arrestor and built-in reverse flow check valve.
◆
Flashback acetylene and patented built-in reverse flow check valves. Soiled brass and stainless steel construction providing you
years of trouble free service.