Contact Us
Contact:
Shanzhong Yang
Tel:
0086-571-87169872 /87169873
Fax:
0086-571-87169573/63739139
E-mail:
china@hzdayang.cn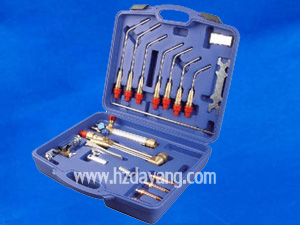 DY-B22
Products Description
Comments
XX21(UCT-500) welding and cutting tools kits

◆Using oxygen and acetylene.

◆Suitable for both industry and business gas welding and cutting, such as: welding of silver, copper, metal heat treatment, redress of

curve, and cutting, etc.

◆Cutting capacity: 3-25mm, welding capacity:0.5-7mm.

◆Aluminium handle, light and easy to use.

◆Switch piece convenience operation.